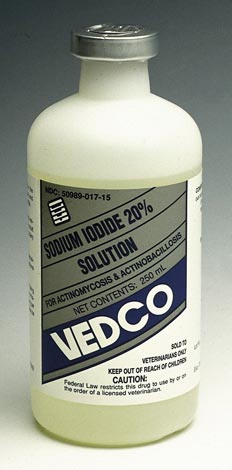 SODIUM IODIDE 20% INJECTION

Click here for SDS 


Active Ingredients:


Each mL contains:
Sodium iodide 200 mg
Propylene glycol 10% v/v
Edetate disodium 0.075% w/v
Benzyl alcohol 0.25 % v/v
Preservatives:
Methylparaben 0.03% w/v
Propylparaben 0.25% w/v
Indications:


For use as an aid in the treatment of actinomycosis (lumpy jaw), actinobacillosis (wooden tongue) and necrotic stomatitis in cattle.
Dosage and Administration:
Administer by slow intravenous injection, taking care to avoid perivascular deposition. The usual dose is 30 mg per pound of body weight (15 mL/100 lbs.). May be repeated once a week if necessary.
Contraindications:


Animals vary in their susceptibility to iodides. Administer with caution until the animal's tolerance is determined. Discontinue treatment if signs of iodism or adverse reactions occur.
Precautions:


Store at a controlled room temperature between 59-86°F (15-30°C).
Cautions:


Federal law restricts this drug to use by or on the order of a licensed veterinarian.
KEEP OUT OF THE REACH OF CHILDREN.
NOT FOR HUMAN USE.
Warnings:


Not for use in lactating dairy cows.
Presentation:


250 mL containers.
VEDCO - 11/10/98.1